Virtual Reality: What it is and Why You Need it at Your Next Event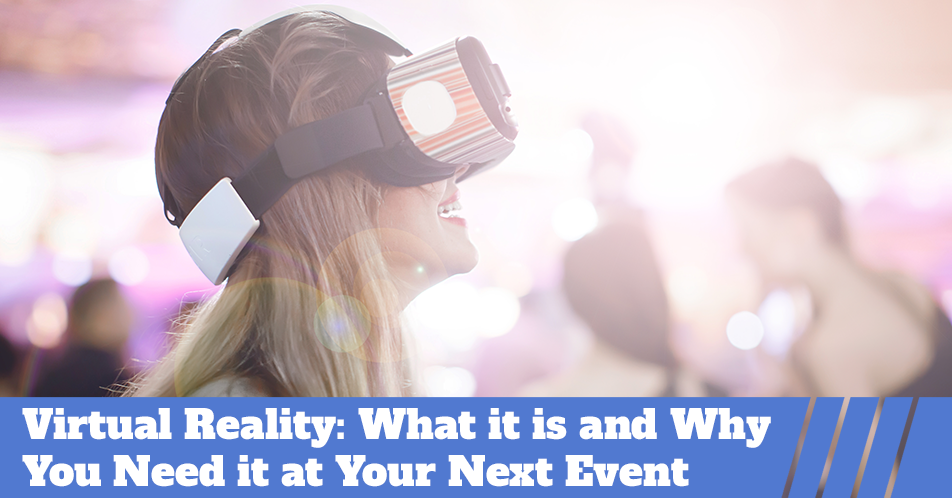 Virtual reality is the wave of the future in terms of entertainment, with more and more technology companies jumping on this growing trend. The next time you are planning an event, incorporating a virtual reality element can truly enhance the experience and take your event to the next level. So, just what is virtual reality and how does it work? Here's what you need to know.
What is Virtual Reality?
In a nutshell, virtual reality creates a simulated environment so that you can experience a different reality from the one you are currently living in. This could be a place that exists in real life, like a popular vacation spot on a tropical island, or a fictional destination, like a fantasy world inhabited by dragons and elves. The possibilities are truly endless, only limited by the imaginations of the developers. This is such an exciting area already, and this technology is only just getting started.
How Does it Work?
Typically, a user can enter a virtual reality world by putting on a headset over their eyes equipped with VR technology. In some cases, you can attach your mobile phone, gaming console or computer to the headset to deliver the visual content. In others, the headset is a standalone device capable of delivering its own content. The system may also include gloves, joysticks or a controller to allow you to navigate your virtual environment.
Using VR at Events
Adding VR as a source of entertainment for guests at your next party can take your event from average to stellar. Because this technology is relatively new, most of your guests will not have tried it before, making it something exciting to look forward to. You can even incorporate the theme of your party into the virtual reality. For example, if your theme was outer space, you could provide virtual reality experiences that take people on a space shuttle or to the surface of Mars. If your guests are more on the adventurous side, try VR bungee jumping or skydiving. Your guests will love the thrill without having to leave the safety of solid ground.
Spice Up Your Next Party
Here at Houston Party Rental, we want to help make your next party a success. We have a variety of virtual reality experiences for you to choose from, among other amenities. We also offer bounce houses, carnival rides, water slides and more. Our party and entertainment experts will be happy to sit down with you to start planning your event, from the overall theme to the snacks you serve. We'll offer our advice and guidance throughout the process to help you narrow down your ideas. Get in touch with us today to start the planning process so that we can help make your next party a big hit!