Why Team Building Events Matter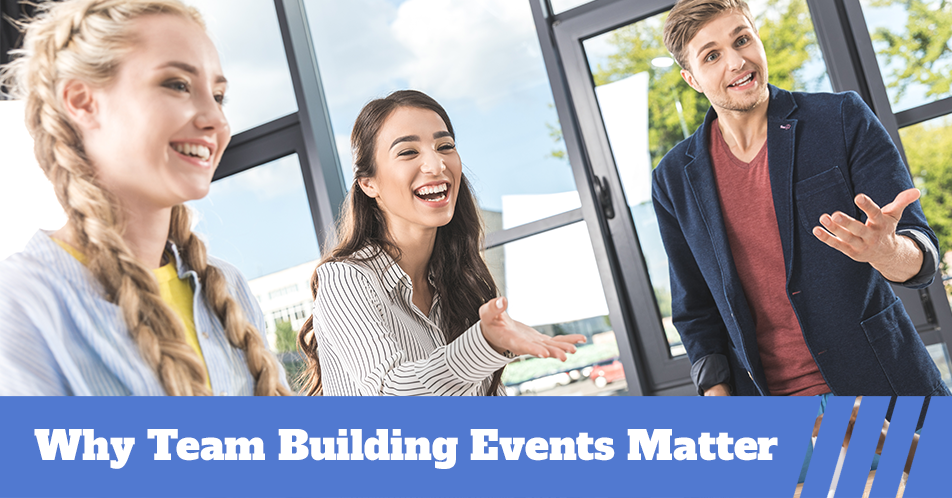 Brian Scudamore on Forbes.com states "Team building has a bad rap. In most companies when a supervisor says, 'We're going to do some team building!' employees start re-running old episodes of The Office." Team building is often seen as something we HAVE to do when it should be something we WANT to do. There are many benefits to team building when it is done correctly. Here are a few of the benefits of team building and how you can help your employees achieve these goals when you invest in team building activities. 
Allows Your Employees to Get to Know Each Other Outside of the Office
One of the most significant benefits of team building activities is that it allows your employees to get to know one another outside of the office. If someone is busy at their job, they may seem closed off, quiet, shy or unapproachable. But the same employee may be charismatic, talkative and outgoing. When you hold a team building event that does not force the corporate stuff, and instead allows employees to let loose, employees get to see who their co-workers are, which can help them to understand each other better and communicate in the future.
They Tap Into Hidden Potential
Another advantage of a team building event is that employees tap into hidden potential. It may have been years since employees have had to solve puzzles creatively, strategically plan, or use their imagination. As such, they may have forgotten how good they are at it, or they may even have talents they didn't realize they had. During a team building event, you can bring out hidden potential in your employees and tap into skills they may have overlooked, forgotten about or didn't realize they had.
Teaches the Value of Healthy Competition
Some people are naturally competitive, while others are not. When you invest in a team building event for your employees, you help to teach them all the value of healthy competition in a positive way. Once this skill is taught, it can be carried over into the workplace, which can be beneficial in helping employees to reach their goals. And when employees achieve their goals, it benefits you.
Develops Problem Solving Skills
The last benefit of team building events for employees is that these events help them to develop problem-solving skills. The right games and activities teach employees to work alone and as a team to solve problems. The next time there is a problem in the office, they can look back on the skills they gained and positively solve the problem that they are facing.
When you are planning a team building event, having the right events, games and activities can make all the difference. The right events can make the day fun, memorable and entertaining while helping your staff simultaneously achieve team building goals. Contact us at Houston Party Rental to see how we can help you meet these goals for your team.