The Importance of Festivals Within Your Community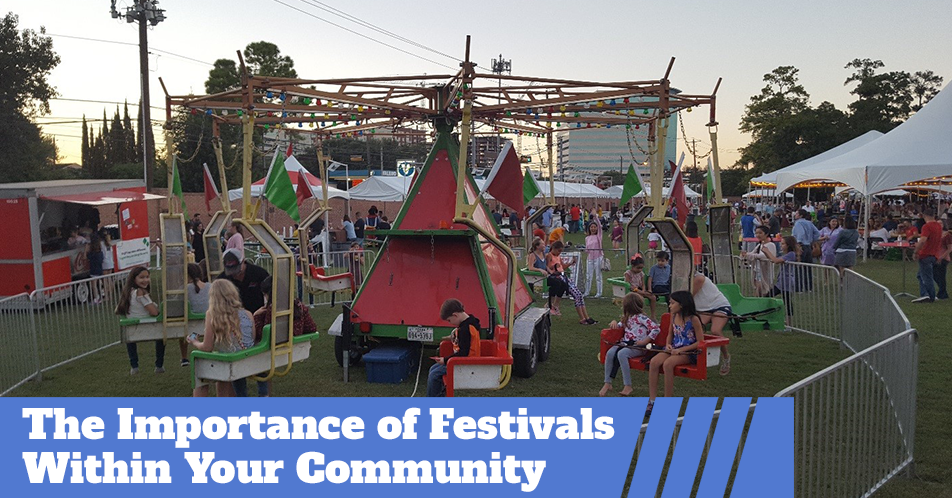 When was the last time you talked with your neighbors? Not just a passing hello, but a real, heartfelt conversation? If it has been awhile, you are not alone. Research shows fewer and fewer people even know the names of the people who live on the same block, let alone choose to socialize or interact with them.
Whether our disconnect from those around us is due to an increase in mistrust of people or just because more of us are spending the majority of our time staring at glowing screens, it is something communities throughout the U.S. need to address! Now is the time we should attempt to build greater bonds between friends, families and neighbors!
One of the easiest ways to bring neighbors together is by organizing a fair or festival for your community.
The Benefits of Holding a Community-Wide Event
Don't let the summer end before you organize a public event in your community. There are countless benefits for hosting festivals in your local area. Whether you throw together a last-minute get together for your block or spend months organizing an outdoor movie festival for the entire town, it is time to bring back face-to-face socializing.
These are three reasons why every town needs to organize more social events.
Festivals and fairs reinforce the identity of a town. Many small towns use community events to keep old traditions from disappearing or to create new ones. Often, towns can showcase what makes them unique and helps to build the pride of residents. This renewed sense of belonging translates into citizens taking better care of their town and helps to reduce crime and vandalism.
Events help to increase tourism and local business. The downtown areas of many towns in the U.S. are struggling to remain viable due to a shift in buying habits. Festivals can help increase the business of local shops and restaurants. Larger events can even attract people from outside the area to come into town and spend more money. This increased revenue provides more tax money to improve the town for all of the residents. Make sure that you provide concessions, such as hot dogs, popcorn or cotton candy, during your festivals for all the hungry people!
Community gatherings are just plain fun. Public events give something all the residents can look forward to attending no matter their age, race or profession. Festivals provide locals with the enjoyment of working together to plan the event, the fun of participating and then the opportunity to reminisce about it afterward. At Houston Party Rental, we can provide all the carnival rides, inflatables, and a multitude of other unique items that you'll need to create the best festival your community has ever seen.
Are you planning to organize an event in the Houston area? Do you need help with some ideas to keep your participants entertained and fed? Houston Party Rental has everything from rides and games to concessions and interactive dance floors. No matter if you are planning a community event, a private party or a corporate function, Houston Party Rental can help you create an event people will talk about for months! Call us at 281-353-2254  or email us at party@houstonparty.com to speak with a party consultant.