6 Tips for Throwing the Perfect Holiday Party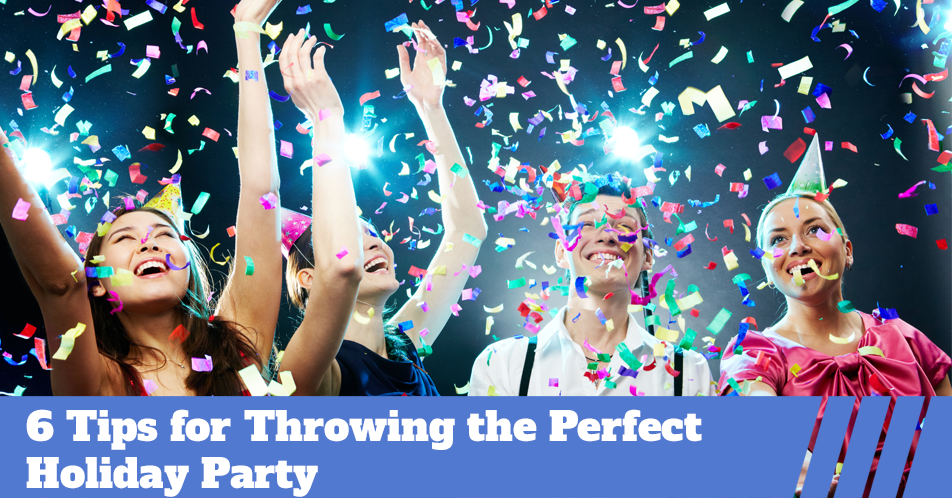 Ready for the holidays? Hosting a memorable holiday party doesn't have to feel like an overwhelming feat requiring the hosting aptitude of a Better Homes & Gardens magazine. These tips will help streamline your party planning so you can enjoy time with your friends and family while creating a festive and memorable atmosphere that will have everyone talking! 
1. Choose a Theme
Whether it's a black tie affair or an ugly Christmas sweater party, choosing a theme will give you and your guests a fun reason to dress up and celebrate the season. It also makes it easier to design an invitation that sets the tone for the event! Having a unifying theme also helps give your décor and menu a defining purpose, which tends to make the planning far easier.
2. Delegate and Brainstorm
Talking to your spouse, partner, or closest friends can make all the difference in the planning process! Having extra minds on hand results in a wider variety of ideas. Whether it's asking others to bring a dish or two to share, or having your artistic friend come over to help with the decorating ahead of time, don't be afraid to ask for help! Having assistance with getting ready will be far more fun with them than doing it alone!
3. Plan the Menu
Whether you're a gourmet chef or not, you can put together a spread that is sure to make an impression. Consider supplementing your trademark dishes with items from friends, or if you'd rather not cook at all, think about having Houston Party rental provide party concessions to simplify your event even more!
4. Don't Forget Drinks
Sangria always adds a festive touch to a holiday party! These winter sangria recipes are sure to impress your guests. You could also go with traditional spiked eggnog or mulled wine. Make sure to have a few non-alcoholic options available, as well! Cranberry juice-inspired cocktails and sparkling cider make fantastic virgin holiday drinks that can easily please a crowd.
5. Play Lively Music
Whether you're choosing an existing playlist or creating your own, make sure you have hours of tunes to get the party started and keep it going throughout the night! The right music can make all the difference in your home's atmosphere on the big day, so take some time to plan a playlist, turn it on before guests start arriving, and put it on repeat for the night!
6. Have Fun With Decorations!
Decorations don't have to be over-the-top to help set a festive mood! DIY decorations are great but don't forget to consider renting. At Houston Party Rental, we proudly offer everything from tables and chairs to dance floors and photo booths, depending on how elaborate you want your event to be! Take your party to the next level with Houston Party Rental!
Still worried about ironing out the details? Don't get your tinsel in a tangle! Contact us today to find out how Houston Party Rental can help simplify your holiday event, and then take the rest one step at a time